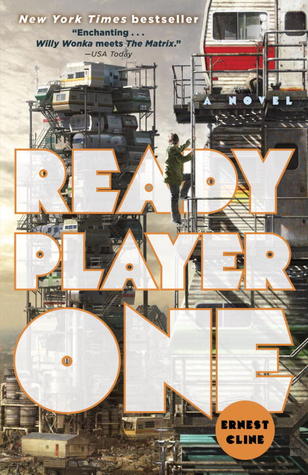 Recently, my friend Bri and I realised that we were both reading Ready Player One by Ernest Cline! She was listening to the audiobook, and I had been meaning to read it for a while. I bought a copy for my sister's boyfriend last Christmas, but then he didn't pick it up once. Finally, after seeing that Ernest Cline had written another book, Armada, I thought I'd finally read it myself. As Bri also has a book blog (a much better looked after one than mine, it is fantastic), we thought it would be nice to have a conversation about this book together, and cross-post it to both of our blogs. It's quite unspoilery and I think it'd be interesting to read whether you've read this book or not.
First though, a little about the book:
In the year 2044, reality is an ugly place. The only time teenage Wade Watts really feels alive is when he's jacked into the virtual utopia known as the  OASIS. Wade's devoted his life to studying the puzzles hidden within this world's digital confines, puzzles that are based on their creator's obsession with the pop culture of decades past and that promise massive power and fortune to whoever can unlock them. When Wade stumbles upon the first clue, he finds himself beset by players willing to kill to take this ultimate prize. The race is on, and if Wade's going to survive, he'll have to win—and confront the real world he's always been so desperate to escape.
Usually I post reviews in order to tell you my thoughts about a book, and whether or not I think you should read it and why. It's pretty obvious that if you've not read Ready Player One yet that you definitely should do… so here's what we thought when we read it.
Bri: I listened to the audiobook version read by Wil Wheaton and I absolutely LOVED this book! I gotta say, I don't know a ton about Wil Wheaton, so I didn't get excited about hearing him read it as other fans would have, but he did a brilliant job. The book heavily includes things from 80s American culture, which I wasn't as familiar with outside of John Hughes films, but I would say you could be a complete novice and still be thrilled with the pop culture references that proliferate this book. This was the first book I've read in a while where I tried to read more slowly because I didn't want it to be over — definitely the most fun book I've read/listened to all year. What are your initial thoughts, Amy? Did you find any of the pop culture references inaccessible as a child of the 90s?
Amy: I'm happy to hear Wil Wheaton did a good job of narrating the audio book, while I know quite a bit about him I wouldn't really call myself a fan. I'm tempted to grab the audio book myself, as I've recently started listening to them, but think my latest Audible credit might be better spent elsewhere as I've already read it, any recommendations would be appreciated! I see what you mean about the pop culture references, I understood most of the ones related to films, especially John Hughes films like you, and a couple of games, but not very much. I didn't find it too alienating though, I enjoyed learning little bits about the '80s, now have a list of more 80s things to look up, and felt quite excited when I understood the references. I can see why this book is popular and a cult favourite, it does play up the nostalgic feel and that's surely why it appeals to a lot of its audience who remember when the games and films references were released. Not to mention, there are bound to be readers our age and younger who, like Halliday, Wade and the other gunters (characters in the book who are looking for Halliday's Easter Eggs, the key to his fortune), engrossed themselves in the culture and love it for the same reason. At times I thought maybe it was a bit overkill when it came to the 80s stuff, but I suppose that's the point. Did you think it was too much at times, or that the amount of pop culture references was about right?
Bri: I really didn't think the pop culture references were overwhelming at all, but I did find that I kind of breezed by the references that I wasn't familiar with and didn't really hold onto them. The only reference that intrigued me enough to want to follow up on is to watch Matthew Broderick in War Games, which I've somehow never seen.
With stories like this, I often find myself getting annoyed with the romance subplots because they often feel weak or over exaggerated to me, but I found that I didn't mind this romance subplot. That's likely because it wasn't a huge part of the storyline, but also was believable and not just thrown in to add another layer of drama/conflict. What did you think of the romance and friendships depicted in the book?
Amy: At least something good has come out the references, hopefully you'll enjoy War Games. Also, if you've not seen Fanboys which is a film written by Ernest Cline, you should definitely take the opportunity to now, it's one of my favourite films and until recently I didn't realise that it was the same person.
I agree with you so much on how romance subplots can feel over exaggerated. I find as I grow older that I have less and less time for extraneous romantic melodrama when a narrative is doing just fine without it. However, the romance subplot in Ready Player One was tolerable. There's a point where the love interest, Artemis, breaks it off for a while because it is distracting (I wouldn't consider this a major spoiler), and I really appreciated what a reasonable decision that was in the context of how high the stakes are in their quest. It seems to me quite tempting to either write drama into romantic arcs for the sake of drama, or when the climaxes of a book aren't related to relationship issues to make subplot relationships run effortlessly and unrealistically smooth. Ernest Cline here seemed to really think through what problems two young people might face when romantically involved while also in this ridiculous situation. I don't know about you, but I really liked Artemis, a lot more than Wade. I don't think that a main character necessarily has to be like-able, but when there's a character in the mix that I can really get behind that's always good, so having Artemis and Aech to like was helpful.
I am always quite skeptical of book-to-film adaptations, with the news a few months ago that Steven Spielberg is directing the film version of Ready Player One, the ball seems to be rolling in the making of it (edit: it now has a date!). What do you think will be the major difficulties when they're making this film?
Bri: It's so interesting to see Aech's name spelled out! Since I listened to the audiobook, I spelled out all of the names in my brain and I thought Aech's name was actually just the letter H. I kept wondering how someone could have a username consisting of only one letter.
I had no idea that there were actually talks about making this into a movie, let alone that someone like Steven Spielberg was attached to direct. As fun and intriguing as I found this book, I honestly can't picture it being successfully adapted to the big screen, especially with all of the references to other works that will definitely be difficult to incorporate because of copyright issues. If a lot of the references end up being eliminated for the big screen, I feel like part of the magic of the book will definitely disappear.
Since the book shifts from taking place in the game setting to Wade's real world and never shows the real worlds of the other characters until much later in the book, I feel like this could affect the film negatively tonally. While this works in the book because you're only following the mindset of Wade, I feel like this is much harder to convey and accept as a viewer of a film when you're taking in the characters within their environments instead of specifically following a single character's thoughts, emotions, and actions.
What's your biggest takeaway from this book? This can be your parting thoughts, how it changed you as a reader, a single sentence summary of the novel, or whatever your heart desires.
Amy: I rarely think of the little differences that can occur between listening to an audiobook and reading it in print, I suppose new words, names, and general things you've never heard of won't come across the same. Cline's spelling didn't occur to you, and it took me far too long when reading to realise it was supposed to be pronounced H.
I do love film adaptations of books, but I feel some stories are meant to be enjoyed as novels and are best left alone. Others feel differently, when they love something so much they need to experience it through as many mediums as possible. I think a film might take something away from the charm of this book. Despite its incredible popularity, it is a cult favourite, and when you're reading it and nobody around you has heard of it you do feel a bit like you're part of a special club. Turning it into a blockbuster movie might remove that inkling that you're onto something great. There's also something to be said for needing to actively play a part in the world building and having to imagine this insane simulated dimension, I found that a big part of my experience of Ready Player One was that how the OASIS looked was largely down to my interpretation of it.
Hmm… parting thoughts. I found this book to be satisfyingly immersive and really enjoyable, as far as my own reading experience goes it is quite a unique book. I'm looking forward to reading Cline's second Armada which was published this month, though I'm worried that it will have too many similarities to be as exciting. Despite my enjoyment of Ready Player One I was occasionally drawn out of it to think about how and why it has sold so well, it seems to me that Ernie Cline knows exactly what he is doing and has played on the enthusiasm of fans of old games and films and their need to buy into or collect things. I can't really talk though, I collect books like nobody's business… I'm really interested to hear what you'll be taking away from this!
Bri: While I always want to read Armada, I think I'm going to wait a few months to check it out so that I won't be constantly comparing it to Ready Player One. Since Wil Wheaton also narrated that audiobook, I'll probably choose to listen to this book too.
My final takeaways from reading Ready Player One is that I shouldn't just dismiss a popular book if it takes place in a world that I don't think I'll appreciate. Some authors are so skilled that they can make it a fun ride for most readers, even if you don't have the background knowledge that could ultimately make it more enjoyable.
Having a conversation like this was fun! Let's do it again! Let us know in the comments if there are any books that you think Amy and Bri should tackle next!